Grosa island or Isla Grosa
The island of Grosa is to be found just off the coast of the La Manga in the Mediterranean, it comes under the municipality of San Javier.   It is the only island of the Menor not in the Mar Menor but in the open sea.

It has an area of 16.5 hectares and is the remains of an extinct volcanic, it is a very steep sided island as befits a volcano, there is another island close by called El Farallon, which is also of volcanic origin and is possibly the same volcano with a double peak.  They lay about 2.5 km off the coast.  The island was once the refuge of Barbary pirates who plagued this coast until the 18th century.
It is also noted for its rich bird life with nesting Petrels, cormorant, Peregrine Falcon and the Audouin's Gull. The island is the third largest colony in the world of this Gull which is classified as globally threatened.  There is a pier and other buildings which were built for the military as it was a military zone until 2000, and was used to train special units of combat divers and was the Bomb Disposal Dive Centre of the Spanish Navy.  It was then ceded to the Region of Murcia to carry out activities related to the environment.

Off the island of El Farallon is a rock called the Hood which is a few meters below the surface and was for centuries a hazard to navigation and as a result the area is now rich in ship wrecks both modern and ancient including Phoenician and Roman.

The most important site is that of a Phoenician ship which sank with a cargo consisting of bullion ore (tin and lead) and tusks of African Elephant with Phoenician inscriptions.  The entire cargo from this ship and the other wrecks discovered in the same area can be seen in the National Museum of Underwater Archaeology of Cartagena.

There are plenty of clubs and centres around the Mar Menor for those who would like to drive in the area or those who would like to learn how to dive.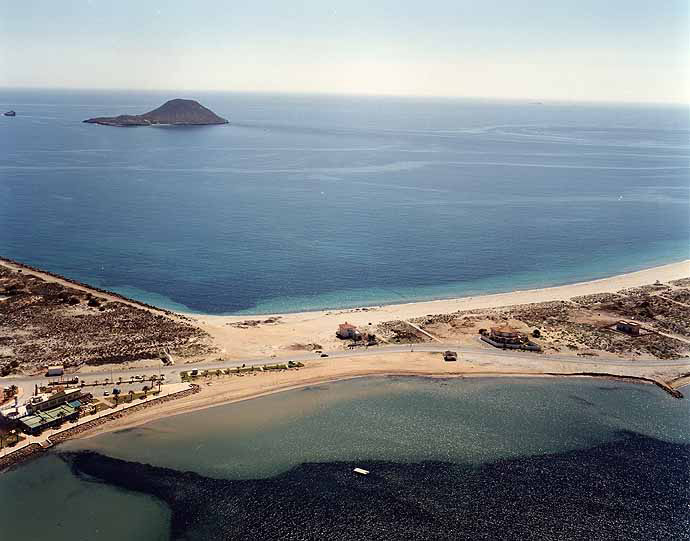 Home page online
 FIND US ON FACEBOOK @ SEA VEIW VILLA